Deneyap Kart Sizleri Bekliyor!
April 22, 2021, 10:59 a.m.
Milli Teknoloji Hamlesi yolculuğumuz, gençlerimize ve ülkemize umut olmaya devam ediyor. Tasarımı, teknolojisi, üretimi, markası ve pazarlamasıyla yerli ve milli olan Deneyap Kart artık satışta.
T3 Vakfının desteğiyle, RFTEK adlı yerli teknoloji girişimi tarafından ülkemizin mühendislik kaynakları kullanılarak geliştirilen Deneyap Kart; güçlü işlemcisi, dayanıklı tasarımı ve çok yönlü G/Ç pinleri ile kullanıcılara Elektronik Programlama, Nesnelerin İnterneti (IoT) ve Yapay Zeka alanlarında başlangıç seviyesinden endüstriyel uygulamalara kadar her seviyede projeyi yapabilme imkanı sunuyor.
Elektronik Programlama ve Nesnelerin İnterneti (IoT) ile ilişkili konuların altyapısını aktarmak ve belirli yapay zeka algoritmalarını çalıştırmak amacıyla geliştirilen Deneyap Elektronik Geliştirme Seti; toplumu dijital çağa taşıyacak otonom araçlar, akıllı şehirler, tarım, sağlık, lojistik, enerji, sanayi vb. teknolojik alanlarda projeler geliştirme imkanı sağlıyor.
Kendisi küçük ama marifeti büyük olan bu karta ve kartla ilgili tüm dokümanlara www.deneyapkart.org sitesi üzerinden ulaşabilir, siteye üye olarak kart ile yapmış olduğunuz projeleri sitede paylaşabilir veya diğer kullanıcılar tarafından yapılan projeleri inceleyebilirsiniz.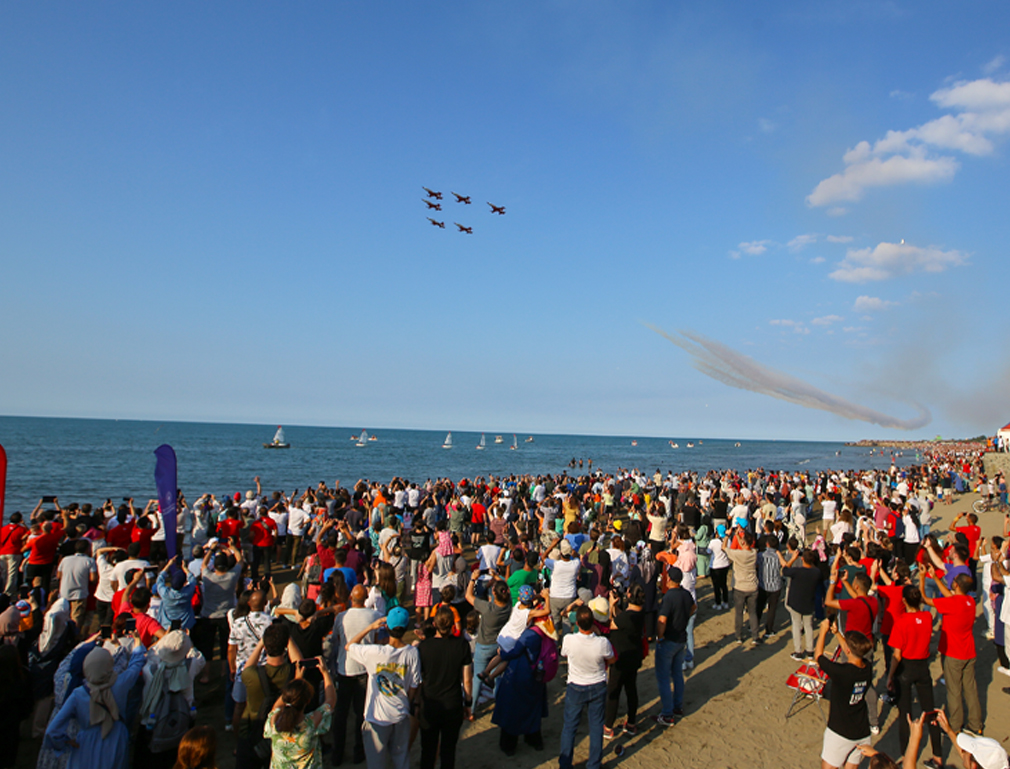 NEWS
Türkiye'nin ayakları yere basmayan tek festivali TEKNOFEST Havacılık, Uzay ve Teknoloji Festivali, beşinci yılında tüm coşkusu ve heyecanıyla bilim ve teknoloji meraklılarını buluşturmaya devam ediyor.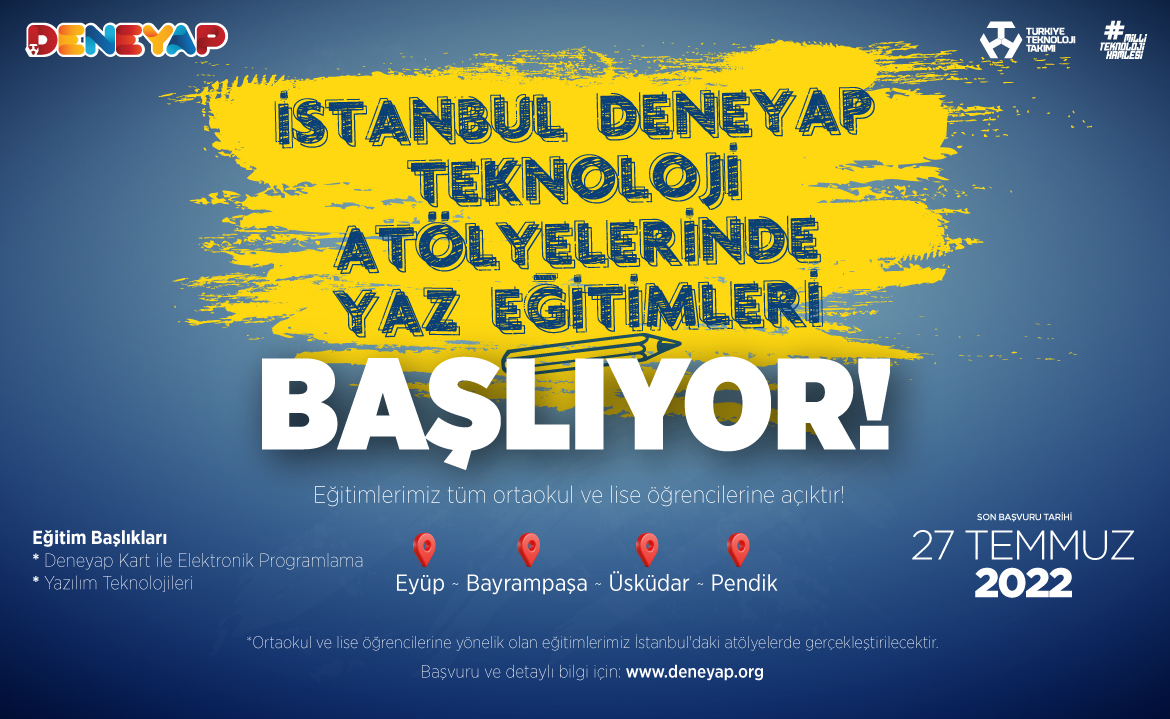 NEWS
Our summer training camps for all students who want to receive education in Deneyap Technology Workshops are starting. Anyone who is studying at the middle and high school level and wants to improve themselves in the field of technology and software can apply.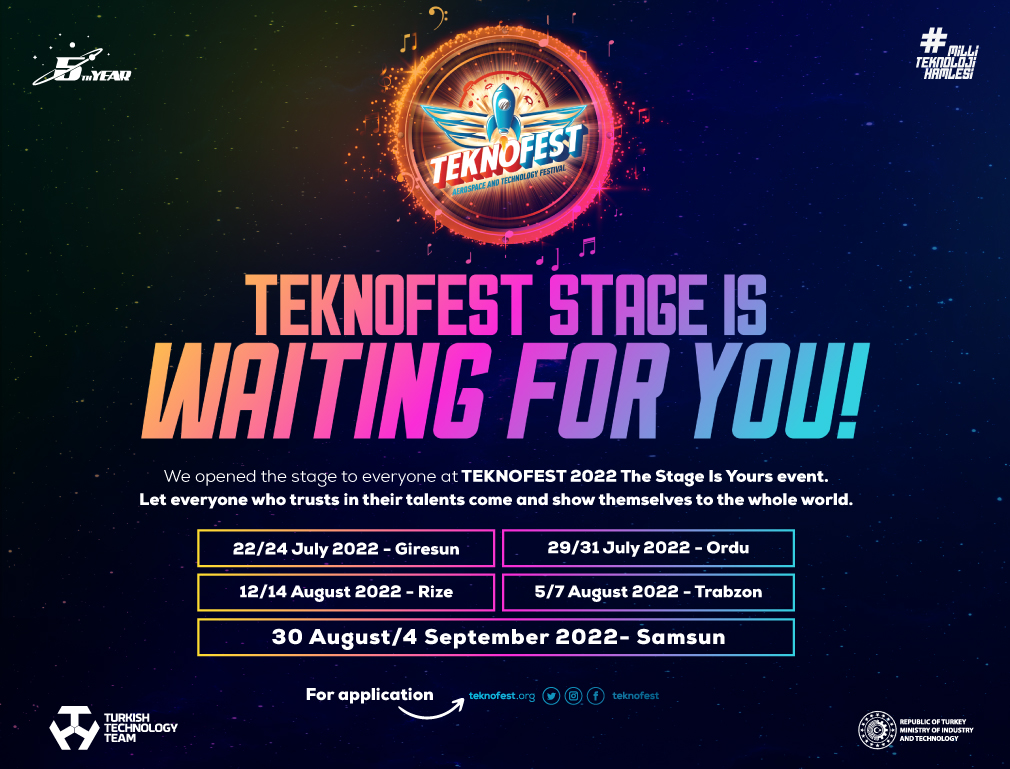 NEWS
The stage is yours at TEKNOFEST Aerospace and Technology Festival, the largest festival of Turkey, which will take place in 2022 in Samsun, in the Black Sea!