TEKNOFEST Azerbaijan Launched in Baku
Our National Pride TEKNOFEST is in the Territories of Friendly Country
In its fifth year, TEKNOFEST, the world's largest aerospace and technology festival, is moving beyond our country's borders to an international dimension. The festival, which will be held in Baku Crystal Hall and Seaside Boulevard between 26-29 May 2022, will further strengthen the bonds of friendship and brotherhood between Azerbaijan and Turkey. The festival, where the highest level of information exchange on technology, science and culture will be experienced between these two countries; will encourage young people to participate in technology competitions, especially on aviation, space, digital economy and environmental issues. In addition to the finals of technology competitions to be held in 10 different categories, magnificent aviation shows, exhibitions, concerts and many surprises, the festival will also host the Take Off Baku International Startup Summit.
The introductory meeting of TEKNOFEST Azerbaijan was held on February 7, 2022 in the capital, Baku. The meeting organized by our foundation, the Republic of Turkey Ministry of Industry and Technology and the Republic of Azerbaijan Ministry of Digital Development and Transportation, hosted by Minister of Republic of Azerbaijan Digital Development and Transportation Rashad Nabiyev. TEKNOFEST Chairman of the Board & Chairman of the Turkish Technology Team Foundation Board of Trustees Selçuk Bayraktar, TEKNOFEST Chief Executive Chairman & Deputy Minister of Industry and Technology Mehmet Fatih Kacır, T3 Foundation Chairman of the Board Haluk Bayraktar and T3 Foundation Executives were attended to the launch from Turkey. The launch, which was attended by many guests and students, was the scene of moments full of excitement and pride.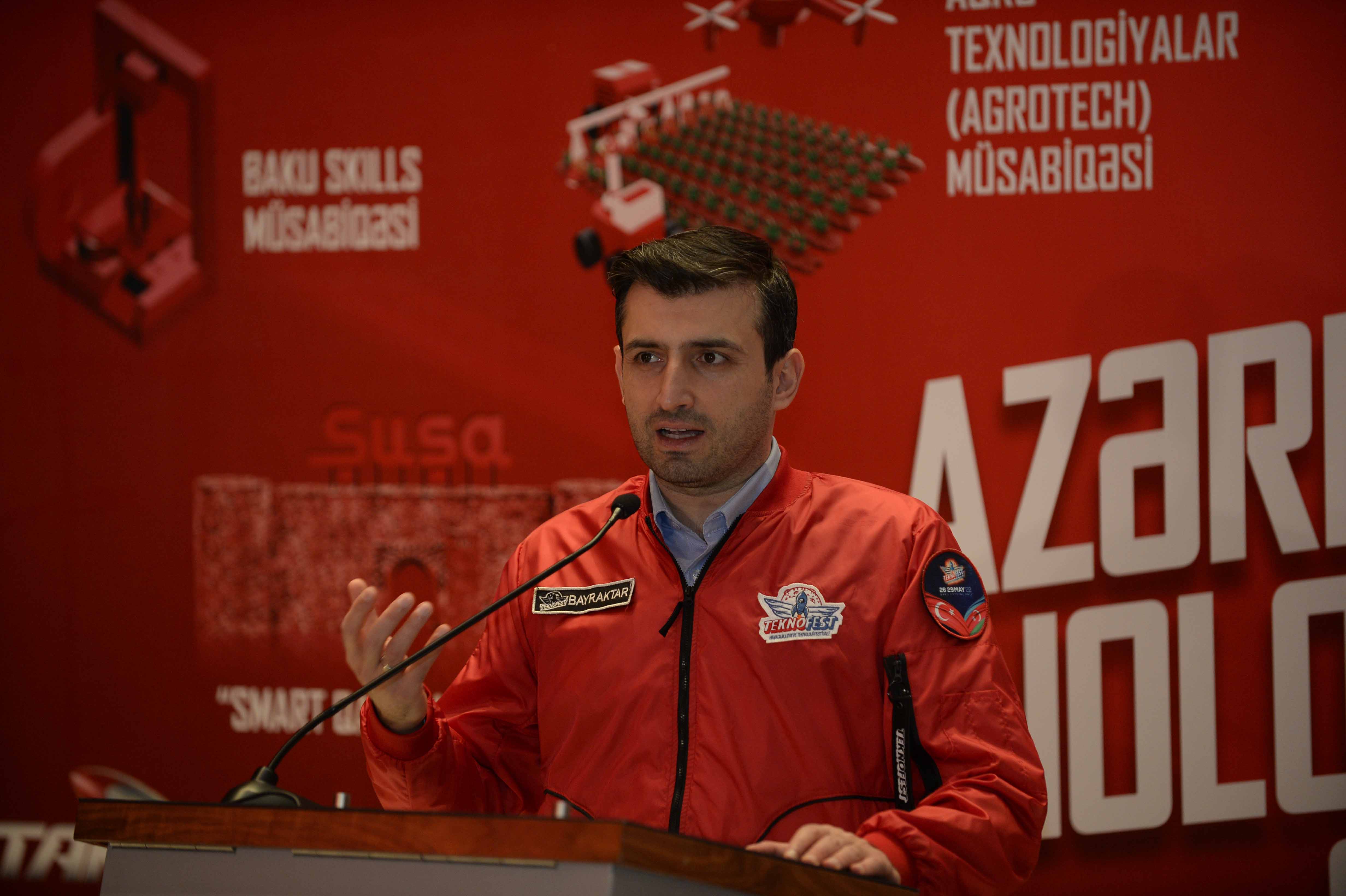 Selçuk Bayraktar: "TEKNOFEST is in the lands of our dear brothers and sisters with whom we have shared destiny…"
Selçuk Bayraktar said, "The journey of TEKNOFEST, which started with a dream and shared by all our nation, has reached its fifth year. This dream has grown so much that it first crossed the borders of Istanbul and then Turkey.
TEKNOFEST is growing day by day. It also receives serious cooperation offers from abroad. We said that if we are going to hold TEKNOFEST outside of Turkey, we must first do it in the lands of our dear brothers and sisters with whom we have a unity of destiny. For this reason, we are holding the first TEKNOFEST outside of Turkey in Azerbaijan." used the phrases.

"Our youth will be prepared for the technologies of the future, from robotics to coding, from cyber security to artificial intelligence."
Addressing the youth and inviting all technology enthusiasts to TEKNOFEST, Bayraktar said, "The first TEKNOFEST we held in Istanbul in 2018 started with 14 competitions. Today, we continue with 39 different technology competitions. The number of applications that started with 20 thousand exceeded 200 thousand. Now, the young people raised from these competitions are establishing initiatives, opening up to the world, and taking part in critical and strategic projects in important companies and institutions of our country. TEKNOFEST starts its first year in Azerbaijan with 10 different technology competitions. I invite all technology enthusiasts to apply for these competitions by February 17. While organizing these competitions, our aim is to establish a future where both our nation and the great human family will live in peace and prosperity. It is imperative that we no longer focus on the finished races but on the races and trends of the future. It is very, very important for you to form your teams and participate in competitions in order to be ready for the future. Come, take part in the formation of the strong Azerbaijan of the future. Just as we are trying to stand by our young brothers and sisters from a very early age by establishing Deneyap Technology Workshops and supporting science centers all over Turkey, we are ready to contribute to the realization of these projects here. At the centers we will establish together with our stakeholders in Azerbaijan, our young people will prepare for the technologies of the future, from robotics to coding, from cyber security to artificial intelligence." said.
Rashad Nabiyev: "TEKNOFEST is another manifestation of friendship, brotherhood and strategic alliance between our countries."
In his speech, Minister Rashad Nabiyev said, "TEKNOFEST, which has been organized for four years, has grown and achieved new successes every year. 200,000 participants from 111 countries attended last year. Literally one hundred percent Turkish brand has already earned the status of the world's largest technology festival. It is pleasing that the first TEKNOFEST outside Turkey will be held in Azerbaijan in 2022. This decision is another indication of the ties of friendship, brotherhood and strategic alliance between our countries. It also puts a great responsibility on us. Initiatives such as 'TEKNOFEST' have a special role in increasing the interest of young people in technology, in the emergence of national technological solutions and accordingly turning them into a movement." used the phrases.

"TEKNOFEST will attract the young generation's interest in technology."
Stating that TEKNOFEST will make a great contribution to the youth of Azerbaijan, Nabiyev said, "I would like to state that the national priorities and future goals of our country are taken as the main criteria in determining the technology competitions to be held within the framework of TEKNOFEST Azerbaijan. First of all, TEKNOFEST will attract the young generation's interest in technology. TEKNOFEST will create new opportunities for Azerbaijani startups. The 'TAKE OFF Startup Summit' to be held as part of TEKNOFEST will play this role."
Successful Young People of Turkey and Azerbaijan on the Stage
Zonguldak Bülent Ecevit University (BEÜ) Grizu-263 Space Team, which came first in Turkey in the 4th TÜRKSAT Model Satellite Competition within the scope of TEKNOFEST and returned with honors from one of the most prestigious competitions in the world, took the stage at the Azerbaijan launch. Turkey's first pocket satellite "Grizu-263A", developed by students who successfully represent our country, was launched into space by SpaceX last month. The satellite, which takes off from Cape Canaveral, Florida, USA, is planned to operate at an altitude of approximately 525 km for 4 years and 8 months. The historical achievements of the youth on behalf of our country were once again celebrated in Azerbaijan.
The students of the Zafar Team, where the children of the soldiers who were martyred for the liberation of Azerbaijani lands, came together, also participated in the launch. Azerbaijan Technical University instructors and students preparing for TEKNOFEST 2022 stated that they will work to achieve new victories in the field of science and technology.
Competition in 10 Different Categories at TEKNOFEST Azerbaijan
TEKNOFEST Azerbaijan Technology Competitions, where applications continue, are also open to international participation. At the launch, detailed information was given about the competitions in 10 different categories, including Robotics, Green Technologies, Agricultural Technologies, Unmanned Aerial Vehicles (UAV), Model Satellite, Social Oriented Technologies, Smart Karabakh Hackathon, Planer, Baku Skills and Rocket League European Cup. A special certificate of participation will be given to everyone participating in the competitions, while the 1st, 2nd and 3rd places of each category will be awarded with a special diploma of achievement and a cash prize.
For detailed information about TEKNOFEST Azerbaijan and registration, you can visit www.teknofest.az/en/ website.